Tencent [TCEHY: US] – market cap as of 23/11/2019: USD 406.28bn
The following article aims to analyze the current situation of the $400bn Chinese tech giant Tencent, comment on the challenges it is facing, and suggest future growth paths.
Overview of the Company
Tencent is a Chinese multinational conglomerate holding, with headquarters in Shenzhen, which was founded in 1998. Tencent has 54,309 employees and it has ¥ 723.521bn of assets. Tencent, under the activity of various subsidiaries, operates in internet-related services and products, entertainment, AI and technology, both in China and abroad. Nowadays, Tencent is the largest gaming company in the world, and one of the largest social media companies and venture capital firms, with stakes in over 600 companies across the world. In 2018, the market value of the company surpassed, for the first time in the history of an Asian technology company, the value of $ 500bn. The holding offers, a huge number of differentiated products and services. Its first and probably most famous product is QQ, an instant messaging platform. Tencent also owns WeChat, the famous social mobile application which offers voice and text messaging. WeChat is currently the most famous social network in China; Tencent in recent years has tried to let it penetrate also the market outside China but, until today, this attempt has failed. Tencent is the leading company in the world in the market of video games. It has stakes in companies such as just to mention some famous names, Ubisoft, Epic Games and Supercell.
Despite its leading position in different services and products, currently, the situation of the Chinese tech giant, as it will be expressed more in detail in the rest of the article, is not as positive as it used to be in the past.
The 15 of August 2018, Tencent declared a profit decline for the second quarter of the year, ending a growth which lasted more than thirteen years and the price of the shares of the company dropped, on that day, by more than 3% in the Hong Kong market. This, essentially due to Chinese regulatory scrutiny of its huge gaming business. And today, in 2019, things are even worse, as the next paragraph will point out.
As reported by Thomson Reuters, on November 13 Tencent declared a 13% drop in quarterly profit, due to disappointing performances of the smartphone games business and to a significant fall in the revenue related to both advertising and computer games. Profit fell to ¥ 20.38bn ($2.91 bn) from ¥ 23.33bn of the previous year and missed the ¥ 23.45bn expected by analysts. Revenue rose 21% to ¥ 97.2bn but was short of the ¥ 98.2bn expected by analysts. This result is primarily caused by a more severe regulation started in 2018 by the Chinese Government with the clear aim of reducing the addiction between young people to video games. Tencent declared, more specifically, that the results were caused by the fact that China's regulator stopped for nine months the approval of new games for monetization. In addition to that, media advertising revenues fell 28%. The increasing competition in the sector, driven by new players such as ByteDance, is proving to be a major challenge for Tencent. Indeed, ByteDance's short-video apps, namely TikTok and Douyin, have won a global audience and they offer interesting advertisers alternatives to WeChat.
Note, however, for the sake of frankness, that, given the huge portfolio of Tencent, it is highly likely that some activities underperform. However, regarding these specific circumstances, not only the situation in the games business and the advertising market is not promising at all, but also it is not expected to be improved in the future, as regulation in China will be more and more strict on that matter. Observe that, as far as video games are concerned, the addiction among young people is an extremely serious problem and plenty of people around the world are now aware of its risk.
Tencent is also having "political" problems arising from current tensions between the U.S. and China. Last month, the holding temporarily suspended its live streams of NBA, for which it has five-year exclusive rights in China after the general manager of the Houston Rockets inflamed Chinese sensibilities by writing on the social media in support of Hong Kong protesters.
Given all the different issues that we commented, as well be stressed during the rest of the article, is highly likely that a future transformation will be needed for the Chinese tech giant. Regulation in the gaming sector raises complex long-term questions related to the ability to monetize games and a likely shift in the type of games that Chinese authorities will be willing to authorize.
On the opposite side, as far as the advertising business is concerned, even if at the moment its negative results are clear, it is easy to speculate that there are plenty of possibilities for Tencent to increase its performances in the future.
To identify Tencent's possible transformation opportunities and areas with high growth potential that Tencent has not had a great presence in, it is necessary to analyze the current trends in the fields that the company involves in. Thus, this article will focus on the major factors affecting the development of each of those sectors.
Advertising
With the advancement of technologies, and the increasing internet and mobile penetration in China, companies have multiple ways to push advertisement and commercial information towards end-users, resulting in an excess amount of advertisement people receive daily. This prompts companies to think of ways to enhance the quality of their advertisement content and chase for the most effective medium to convey messages. Those reasons are the major drivers of the rising short-video and live streaming advertising in China.
Videos help to bridge the omnichannel retail gap as consumers no longer need to visit a physical store to see a product, speak to a store attendant and fulfil the order. It is considered as the advertisement format with the highest growth. In 2019, total media ad spending in China will increase by 14.6% to $114.77 billion. Digital, which already commanded two out of three ad dollars in 2018, is expected to grow its share of media ad spend to 69.5% this year. Digital video, a subcategory of display advertising, will increase 25.7% to $13.81 billion this year. The industry average growth is a lot higher than the 13% revenue growth rate of Tencent's advertisement pillar according to the company's Q3 earnings report. This hints that Tencent needs to seek for ways to transfer its major advertisement placement scenario from the text-based WeChat Official Account and Moments to the video-based digital environment such as short-video apps.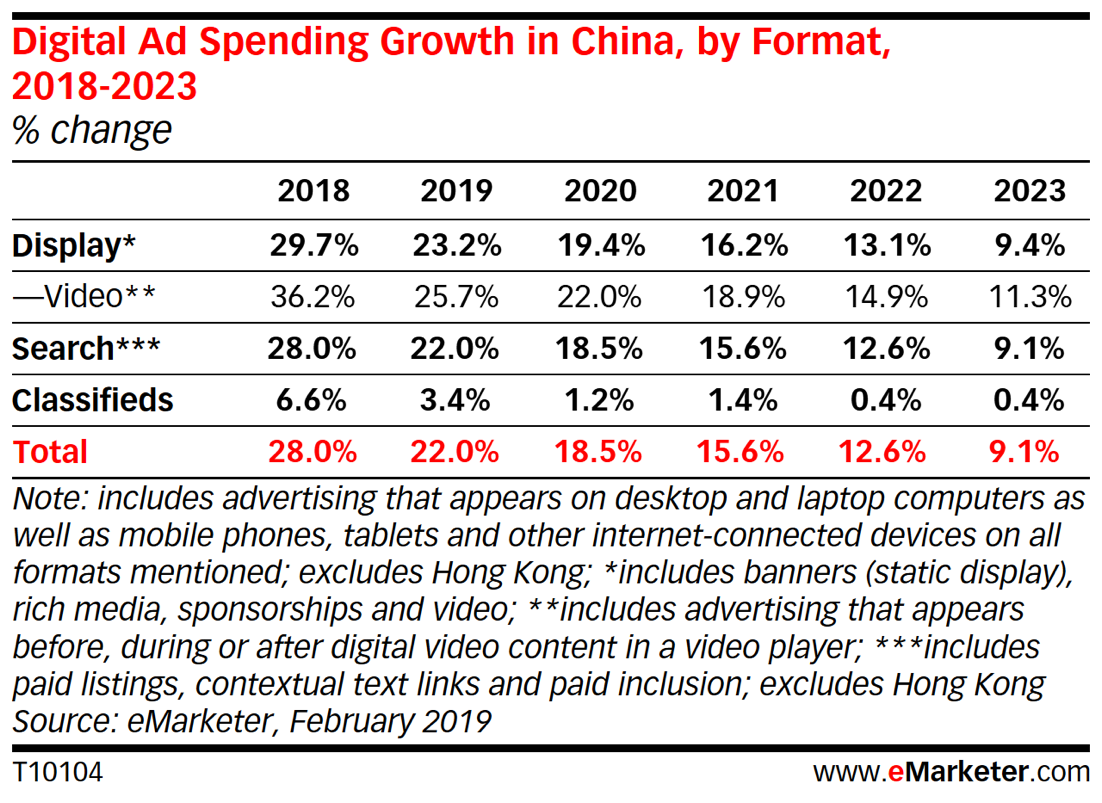 Source: QuestMobile
The benefits that can be brought by this transformation are tremendous. The amount of time people spend on Douyin, China's most used short-video app, is on average 5 times longer than the time people spend on WeChat. The greater potential to be exposed and influenced by the advertisement that comes along with the more active usage of the short-video apps will be able to drive more advertisement revenue. Besides, the original and creative content of short-videos that results in the stickiness to those platforms will sustain the growth of end-user traffic and the demand for advertisement placement on these platforms.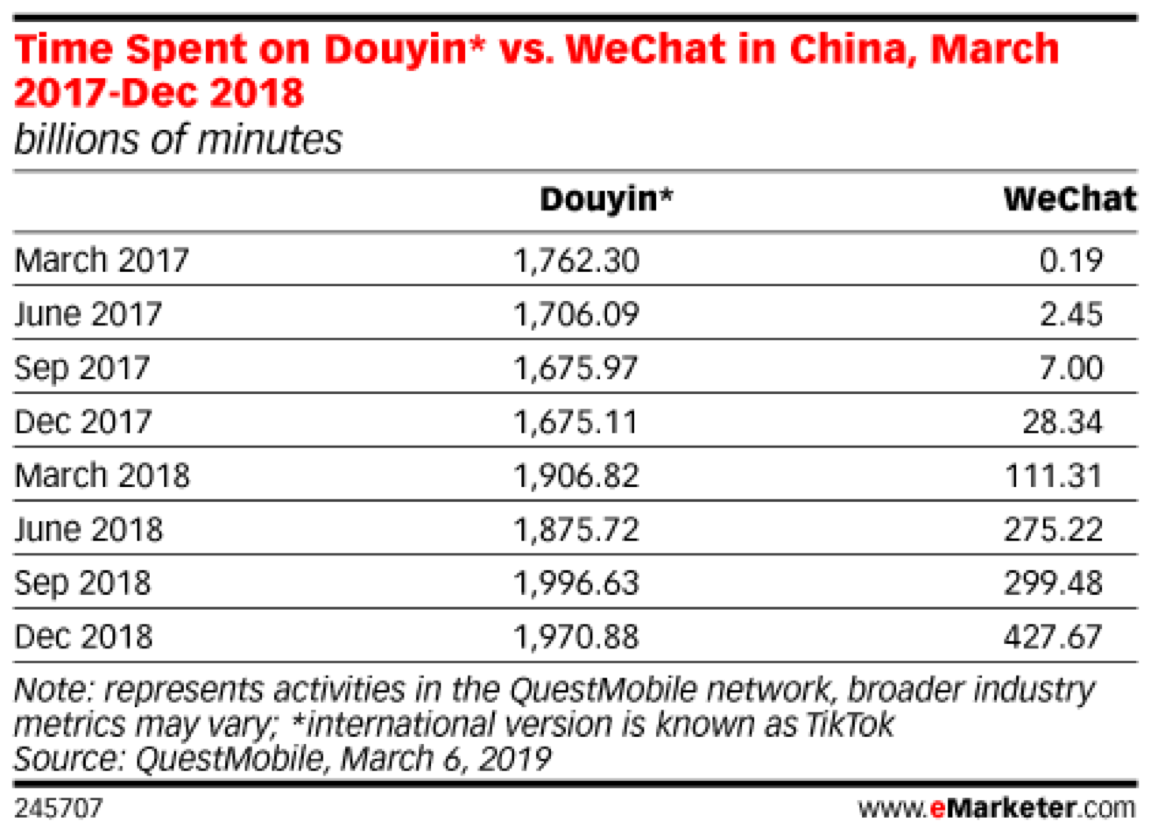 Currently, Tencent has a relatively low presence in the short-video industry comparing to the top two players ByteDance and Kuaishou. The popularity of the short-video platform is greatly influenced by KOLs (Key Opinion Leaders) who are usually signed to provide exclusive content via a single platform to gain traction.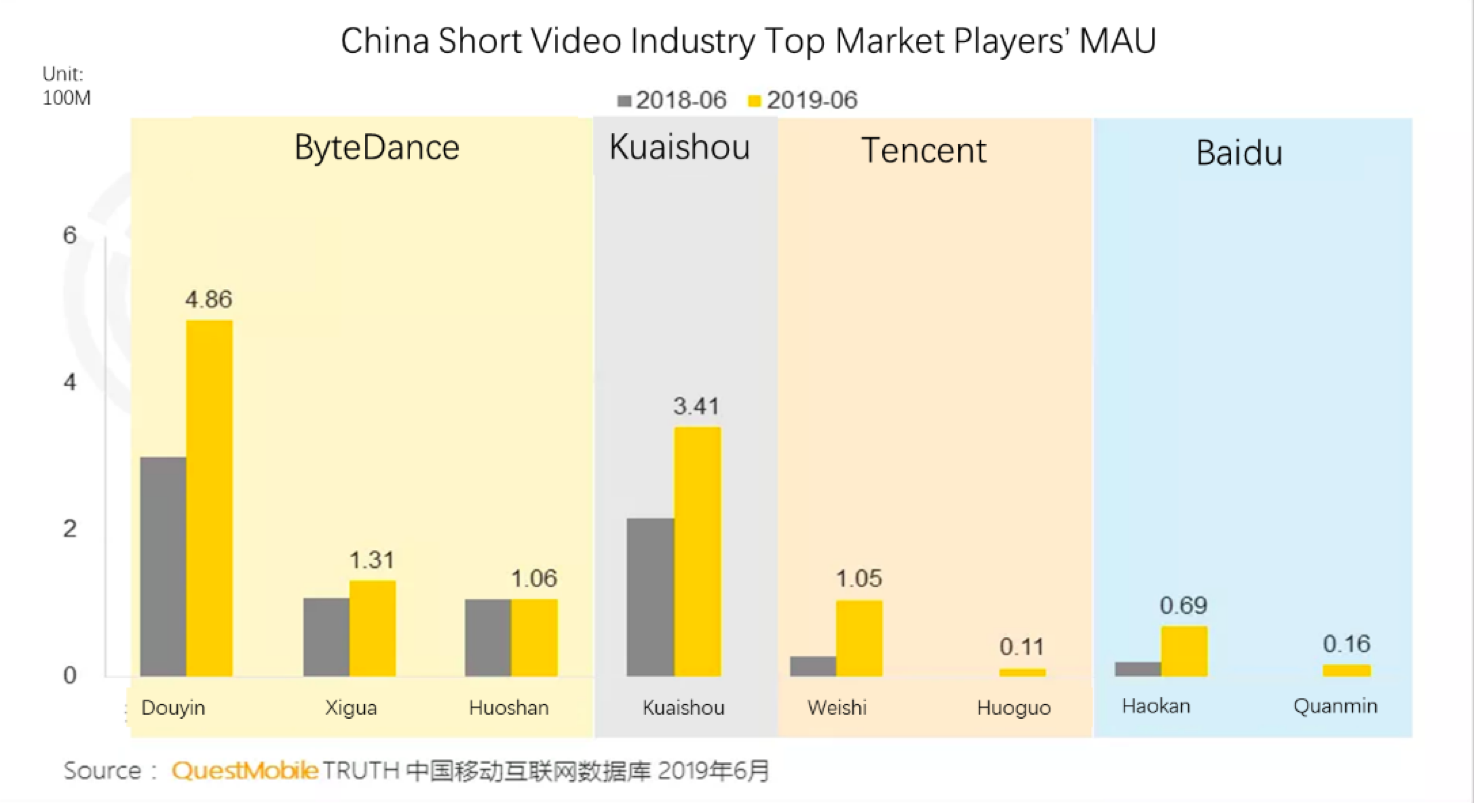 Source: QuestMobile
As a subcategory of video advertising, live-streaming as a form of advertising has recently become very popular in China. China was the largest market for live streaming in 2018, with revenue of $4.4 billion, a 32 per cent increase over 2017.
Source: Deloitte
It is gradually becoming the "go-to" option for Chinese consumers when seeking out new products and deciding on what to buy. Live streaming allows KOLs to demonstrate the products and talk through their functions through liveliest way possible. Meanwhile, powered by interactive functions such as commenting, the audience can ask questions and receive explanations instantly, leading to immediate purchases. Besides, there's a feeling of authenticity that comes from live streaming. While much of the advertising is scripted and airbrushed, in contrast, live streaming enables viewers to see their famous KOLs behave and react naturally in real-time, resulting in a closer relationship between the viewers, the KOLs and the brands. Therefore, live streaming enables brands to connect better with customers than other forms of content and results in higher view-to-purchase conversion ratio.
Besides Tencent, China's tech heavyweights such as Alibaba and Baidu all hope they can boost their business such as e-commerce, social networking and gaming by live-streaming. Earlier last year, Alibaba's Taobao marketplace allowed sellers to promote products directly to online viewers in real-time by launching a live-streaming platform. Taobao Marketplace generated more than 100B RMB ($15.1B) through live streaming sessions in 2018, a YoY growth of almost 400%. Leveraging its current live-streaming platforms such as Huya and Douyu and overseas brands like Nimo TV and NonoLive, Tencent can explore the possibility of enabling live-streamers to invite viewers to join them in a game straight from live streaming sites. Tencent can ride on the wave of lifestream and enhance the advertising earnings from live streaming platforms for example by inserting advertisements into its live-streaming platform either via KOL endorsement or mentioning brands in the videos. On the other side, playing the games in live streams is the advertisement for the game.
The development and instalment of 5G technology that will realize a 250 times faster network speed than the average of 4G will give another boost to the short-video and live streaming advertising as it provides a better viewing experience and a lower cost to stream those video in the environment without Wifi leading to the larger user base of those mediums.
Gaming
The advancement of 5G technologies also starts a new trend within the gaming industry: cloud gaming. Cloud gaming allows end-users to get access to a huge library of PC and console games without necessarily taking the storage to download the games and buying hardware to play them. Instead of storing a game on a disk or a hard disk, games will be located in a cloud computing centre and can be streamed via the internet from any location and to any end device. Devices send gaming commands over the internet to cloud computing servers, while they send video back to your screens.

Source: Newzoo
To gain traction to this new way of gaming, a high network speed is required to enable an instant transmission of data between end devices and cloud gaming servers to prevent latency and provide a good gaming experience for gamers. 5G technology will be able to realize this.
This technology that allows people to game without any restraints from equipment and location hinting potential growth of the gaming population. Morgan Stanley's AlphaWise suggested that around 10% of the non-gaming population did not play games because of the expensive hardware required like consoles. As cloud gaming lowers the barriers of gaming, iiMedia Research estimated that the cloud gaming platform will increase the gaming population for at least 10%. Cloud gaming will also create new monetization solutions such as the subscription fee of the cloud platform, and advertisement fee due to the creation of a new social network community built upon the cloud gaming servers, prompting tech giants to invest in connectivity and cloud-based solutions.
Sony introduced its cloud gaming platform PlayStation Now back in 2014. Google has just launched its first cloud gaming platform, Stadia, in 14 countries including the US, Canada and several European countries on November 19th, 2019. Users of Stadia can play a limited amount of games on various types of devices, including TV, PC and Pixel Phone with Google's Chrome browser and an internet connection. Microsoft followed suit with the announcement of its cloud gaming service, Project xCloud, at the Electronic Entertainment Expo 2019. Most of those services are only available in North America and Europe due to their allocation of data centres, standing as a great opportunity for Tencent to take the first-mover advantage in APAC.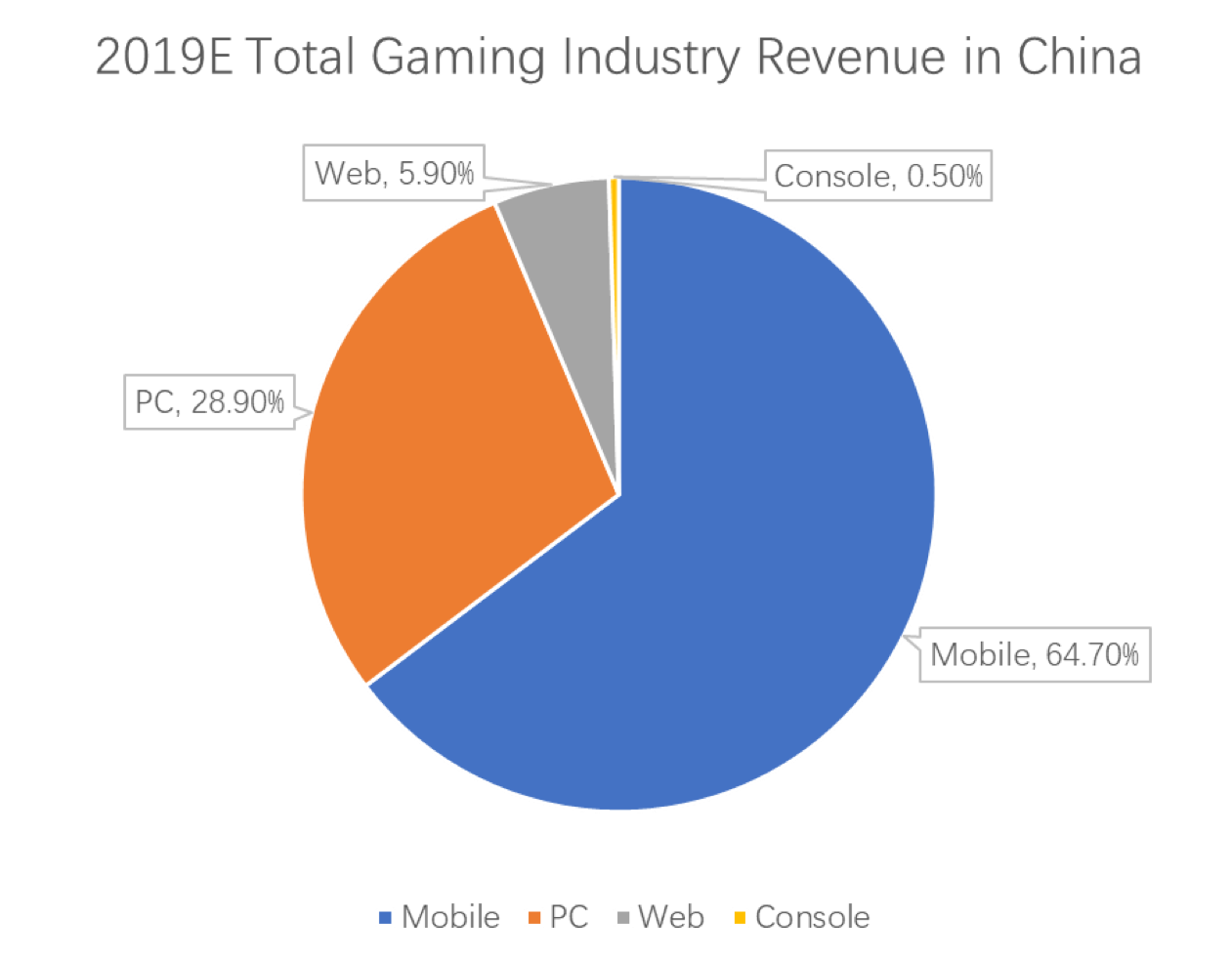 Source: IBIS
APAC contributes to 47% of the global gaming industry revenue and half of it comes from mobile gaming. These mobile end-users are not just playing simple games like Candy Crush. The three most popular mobile games in China, where 95% of the gaming population play mobile games, are Game for Peace, Honor of Kings and Speed QQ. All are operated by Tencent, and are the mobile versions of large PC games such as Playerunknown's Battlegrounds (PUBG) and Defense of the Ancients (DOTA), indicating a strong potential demand for cloud gaming in China that allows player easily get access to a wider range of PC games with mobile devices. Analysts have estimated the market for cloud gaming in China to register a compound annual growth rate (CAGR) of 20.2 % from 2019 to 2024.
The more established cloud gaming value chain in APAC is also hinting at the future success of the field. The top 3 countries with the most 5g connections and adoptions are in APAC including Korea, Japan and China. China is also expected to own the world's largest 5G market, and the country is aiming at bringing 5G to over 50 cities including all tier 1 cities by the end of 2019. In terms of Cloud Computing Datacenter, Tencent is the second largest in the region in terms of geographical coverage and capabilities. 5G mobile phones such as Xiaomi 9 Pro 5G have also been introduced to fill the last part of the cloud gaming value chain.
Source: Newzoo
To limit the exposure brought by the uncertainties of Chinese regulation on gaming content and format, Tencent can eye the opportunities in Indonesia, Malaysia and Singapore the three countries putting the most investment in 5G construction in South East Asia.
Business Outlooks
Up next, we will go through some strategic plans that may give Tencent a competitive edge and thus bolster its advantageous position.
Tencent might need a life beyond gaming
Tencent's gaming division has found itself in the line of fire as Chinese regulators haven't been granting the permits to sell virtual goods in its games, which is their main source of revenue. Consequently, many analysts have promptly suggested that Tencent would benefit from expanding its gaming products to other markets with lighter regulations.
Tencent has already made efforts to strengthen its presence in the West, mainly by building up minority stakes in foreign companies. The Chinese giant owns a substantial portion (40%) of Epic Games, the North Carolina-based company behind the acclaimed Fortnite, and a minority stake (5%) in Activision-Blizzard, the world's largest and most profitable western interactive entertainment company.
Additionally, Tencent launched in 2017 Arena of Valor, the international adaptation of the Chinese megahit Honour of Kings, and this April a global gaming platform, WeGame X, with mostly Chinese independently developed games. The first was a fiasco as the game's great similarity to the well-established League of Legends made the game unattractive to the western public; the second has not gotten any traction either in part due to a very limited game offering. On this latter aspect, a strategic partnership with a western gaming company aiming to boost the WeGame X content may be an interesting idea at first glance, but industry analysts believe that the Chinese gaming platform and Epic Games Store would end up cannibalizing one another.
Finally, Tencent announced this year that it has been working with Intel on its cloud gaming platform. As cloud gaming is expected to grow from $234m in 2018 of consumer spending to $1.5bn 2023, Tencent is determined to jump on the cloud gaming bandwagon as have other tech giants done recently (namely Google, Microsoft and Sony). Although this project has the potential to have a worldwide reach, Serkan Toto, CEO of Tokyo-based game industry consultancy Kantan Game, recently explained the very common industry opinion that Tencent will not obtain that exposure: "I currently cannot picture any scenario where Tencent could be successful on a global level. I think in the West, Western or Japanese cloud gaming providers will dominate in the end".
As uncertainty reigns over what kind of gaming titles may be approved by regulatory authorities going forward, Tencent is trying to reduce its exposure on gaming at the same time as it tries to hold its leading position. Indeed, gaming as a contributor to Tencent's revenues has declined from 36% in 2018 to just over 28% in the most recent quarter and analysts believe it will likely decline further over time. Tencent's search for revenue beyond its gaming business has had the effect of bringing its other lines of business to the forefront. Tencent is set to transform itself from a very consumer gaming heavy business into one more reliant on enterprise services and the Industrial Internet of Things. So… What's next for Tencent?
Boost Advertising
One special focus for Tencent has been the advertising business. Tencent has the largest social networking platforms in China with WeChat and QQ having a monthly active user base of approximately 1 billion users. The platform is very under-monetized, with WeChat users reportedly only seeing an average of three ads per day versus more than 20 that Facebook users happen to see.
However, Tencent is planning to integrate personally customised and location-based specific in-feed ads into content to further monetize the huge WeChat traffic. The Shenzhen-based tech giant has decided to use in-feed ads rather than any other type of advertisements since in-feed ads are believed to be less annoying for users and have better click rates. Tencent plans to boost its ad revenue to account as much as "30%-40% of the company's total revenue in a few years while keeping it under 50% to maintain a good user experience" said a senior executive at Tencent's advertising department earlier this year.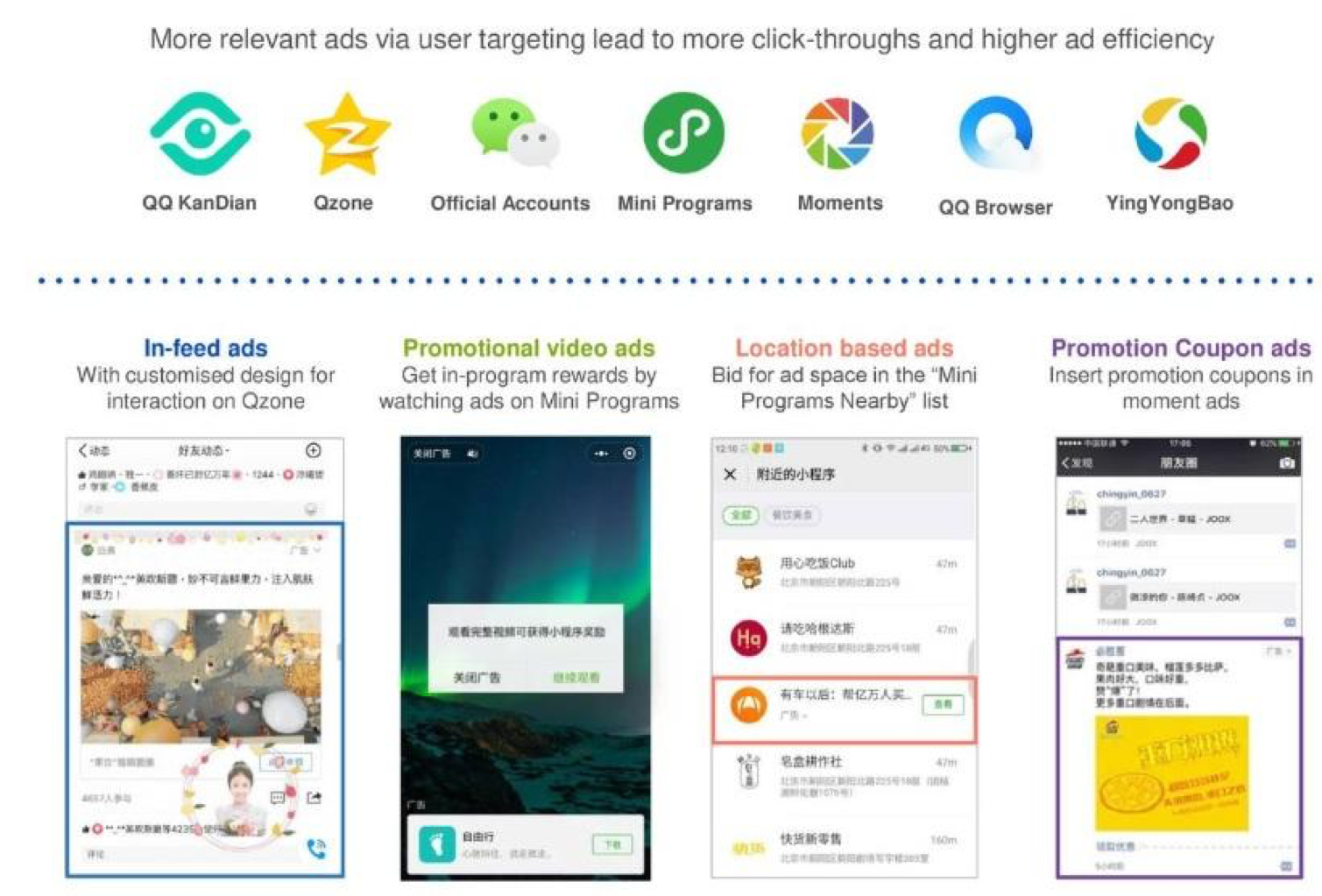 Source: Tencent 2019 investor deck
Additionally, as discussed earlier in the article, video advertising might be an attractive field for Tencent's future. To achieve growth in the area, Tencent can either make financial investments to acquire established platforms or attract KOLs from other platforms with more attractive contracts or spend more time identifying and developing potential traffic-driving KOLs of the future.
Consolidate a leading position in the Music industry
In 2015, China's music industry bottomed out as 99% of all Chinese music downloads were illegal as estimated by the U.S. Trade Representatives. However, things drastically changed as the government started cracking down on music piracy to repair China's commercial reputation and bolster a potential billion-worth tax-paying industry. In the time-lapse of three years, the streaming music revenue tripled, increasing from $97m in 2014 to $292m in 2017. By 2023, the industry is expected to be worth $30bn in China. The biggest winners in this transition are the largest music labels- Universal Music Group, Sony Music Entertainment and Warner Music Group Corp.- which have managed to strike lucrative licensing deals.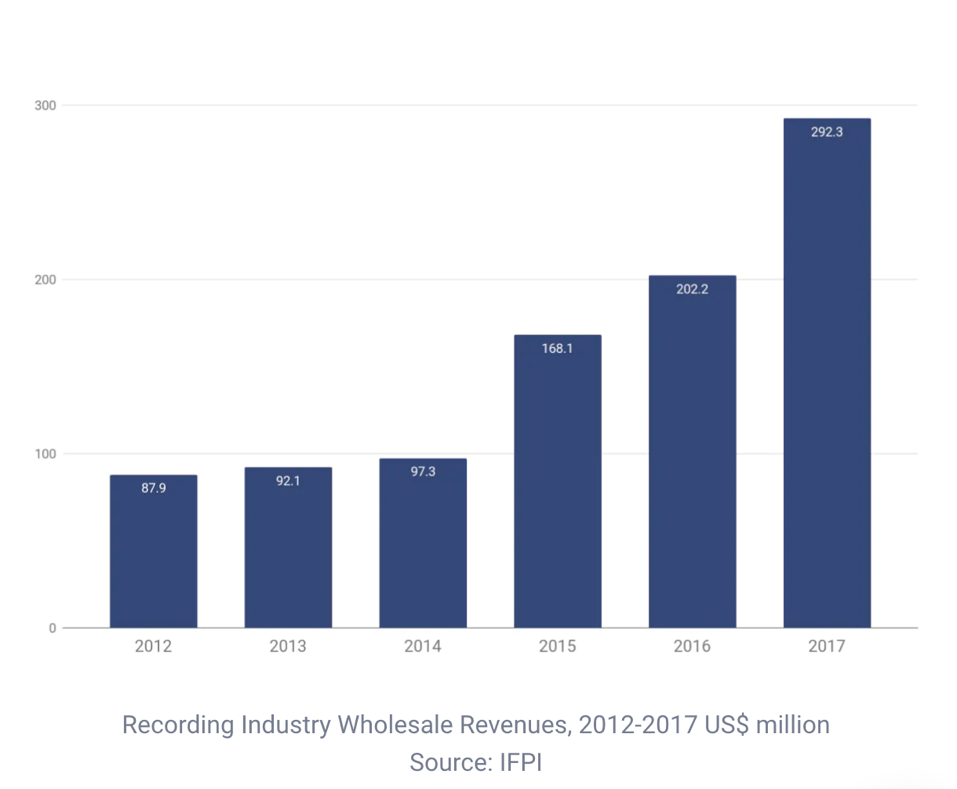 Tencent Music Entertainment, the biggest music-streaming company in China, is facing severe scrutiny by Chinese regulators concerning its deals with major western record companies which grant the Chinese tech giant the right to sub-license to its national competitors. The days of Tencent sub-licensing the majors' music in China might be over, but as the WSJ announced earlier this month, Tencent is considering acquiring a minority stake in Universal Music Group (UMG), and that could bring other serious perks. According to people with knowledge on the matter, the Chinese tech giant is looking to form a consortium for a 10% stake in UMG for around $3bn with an additional call option to acquire 10% at the same terms and price. The idea is that, if Tencent has a monetary interest in the success of Universal Music Group artists, the company could heavily promote them in their social platforms to ensure their success in China. Jordan Bromley, a music-specialist at Manatt, Phelps & Phillips LLP explained "Should this deal go through, I imagine that Universal artists will naturally get preferential treatment [on Tencent services] based on the greater financial reward Tencent will receive when that happens. It looks like a strong synergy strategy."
We believe one of Tencent's long-term strategies should consist of building a leading position in the international music business in China. And that it shall try to do so by accumulating minority stakes, so that the tech giant won't trigger any anti-competitive sanctions, in the most powerful music-related companies in the U.S. and Europe.
Internet of things:
Another major strategic opportunity for Tencent is to become a more active player in the Industrial Internet of Things (IIoT), the use of smart sensors to enhance manufacturing and industrial processes. The Industrial Internet market is expected to be worth $123B in 2021 and China will likely claim almost one-third of that value.
Tencent's role here is to collect data and analyze it, helping industrial businesses of all shapes and sizes gain intelligence from the various signals that sensors will be providing them. Sophisticated data platforms that can leverage artificial intelligence, machine learning and cloud computing will be required to generate insights and actionable intelligence, and that's where businesses such as Tencent really stand to play a material role. WeChat will here play a dominant role. Indeed, through its mini program ecosystem, the social will help enterprises better understand their customers and also collect valuable data.
Further investing in the industrial Internet will benefit Tencent as it will meaningfully diversify away from its current more consumer-oriented streams. This will not only be helpful in the long run with reducing Tencent's political and economic exposure to the consumer segment, but also more significantly, offering an element of stability to its future revenue streams. Such a move won't be without its challenges however and will likely take some considerable time. The Chinese tech giant will need to reinforce cloud computing competencies, strengthen the deployment of artificial intelligence and improve infrastructure security to appeal to enterprises. This may be done by growing organically or, like market leader Alibaba has done recently by acquiring the Chinese chipmaker Hangzhou C-SKY Microsystems, growing by acquisition.