The 24th May 2015 marks an unprecedented change in Poland's direction under many aspects. On that day Andrzej Duda, candidate of the Law and Justice party (PiS, abbreviation of "Prawo i Sprawiedliwość") won the presidential elections, defeating the incumbent president Bronisław Komorowski, for the Civic Platform (PO, "Platforma Obywatelska").
Probably this doesn't say anything to the most part of you, or maybe you simply know that an "extreme right wing party" won the elections; news were mostly delivered by newspapers citing the choice as part of a radicalization movement starting from Hungary building walls to avoid immigrants (or maybe to make sure that Hungarians don't actually escape?) entering the country and Poland rebelling against a perceived German domination over Polish commercial and political interests.
However, things aren't this easy and to better understand we should go back to some years ago. Donald Tusk, the current President of the European Council, before covering his current position, has been the Prime Minister of Poland representing the Civic Platform party cohabitating with Lech Kaczyński, President of Poland and indeed founder of Law and Justice party.
You can now easily understand probably where is the difference between these two parties; it is not a simple distinction between right and left, it probably has almost nothing to do with it. These two parties differ in their vision of a future for Poland: Civil Platform pushes for further European integration believing that this will lead to a convergence to European standards of living and production, while Law and Justice instead sides with a more protectionist approach on the back of the idea that Polish interests are, more often than not, harmed by bigger European players like Germany.
Empirical evidence proves Civil Platform right: with an average annual growth rate of 3.8% over the last ten years, Poland has established itself as the sixth largest economy in Europe.
The liberalization policy adopted after the fall of the Socialist system was responsible of a massive program of privatizations which, not only restructured "sensitive" sectors such as coal and steel accounting for a not indifferent share of the country's GDP, but also made Poland attractive for foreign investors in service sectors: in financial services, in particular, Poland is now home to the biggest financial centers of Central and Eastern Europe, namely Warsaw, Krakow and Wroclaw.
So why did Poland choose Law and Justice? The problem in May was twofold: on one side the incumbent president Komorowski was alleged as part of some corruption scandals, which highly damaged his public reputation, while on the other side great territorial disparities played a big role.
The chart on the left shows Poland's electorate distribution: in purple the regions which voted for Duma, while in orange those for Komorowski. Since the presidential election it is possible to see how the voting pattern is correlated with longitude and latitude. South-Eastern regions voted for Law and Justice while North-Western ones voted for Civil Platform; important to note is also that Komorowski ranked first in most big cities such as Warsaw, Poznań, Wrocław and Kraków. Duda instead attracted two thirds of the rural population, not withstanding the fact that the farmers' party was at the time in the government coalition with Civil Platform. Finally, the highest qualified voters seemed to prefer Komorowski, while less qualified opted for Duda. However, what gave Duda's 3% margin to obtain victory was actually represented by university students who chose its nationalist-conservative game-changer message over Komorowski's traditional one of liberalization (even if Civil Platform should be considered itself a conservative party).
Straight after the proclamation of Duda as president, polarization started with Marek Belka, governor of Central Bank of Poland defining him publicly as "a comedian" during several press conferences.
In October 2015, when the elections of Parliament and Senate were held, Law and Justice was able to gain against the first place, thus obtaining 51% of seats. Unlike the presidential office, which is mostly a representative role, getting control over the Sejm and the Senate allowed the Law and Justice party to start carrying out reforms going in the opposite direction with respect to the past years. The Constitutional Court was reformed setting two thirds majority as the decision rule, up from the simple majority and introducing other measures aimed at slowing down its functioning. Through strategic laws, government increased its control over national media and, last but not least, civil service senior jobs are no more assigned through public tender, thus leaving space to the appointment by the government of its loyal supporters in strategic bureaucratic positions. Contrary to what one could think of when knowing that "an extreme right party" rules Poland, these measures throw back to the Soviet-times, when the ministry of culture decided which plays can be staged by Krakow's Stary Theatre, exactly as it was recently reintroduced.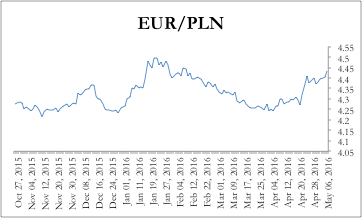 These political developments are necessary to understand what happened in the FX market, which saw a devaluation of Polish Zloty with respect to Euro by 3.6% since the election of Beata Szydło as Prime Minister in October.
Once a haven currency for EM market turmoil, now, since the beginning of the year Zloty has been one of the worst performers among Emerging Markets. Losing 3% against the dollar in April, it positions itself behind the Philippine Peso (-2.2%), the Chinese Reminbi (-1%) and the Taiwanese Dollar (-0.7%), while Colombian peso, Brazilian Real, Russian Ruble and South African Strand register all gains.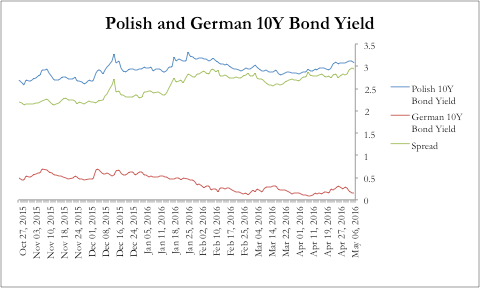 The Law and Justice's effect is not to be found only in the Zloty exchange rate, but also in government bond yields. As the figure below shows, since the end of October the spread between Polish and German 10 year Bond Yields has increased by 0.733 percentage points, i.e. 33%.
Standard and Poor's already downgraded the country's credit in January to BBB+ on the basis of an evident erosion of the internal system of checks and balances. This week, contrary to what had been dismissed in early April, Moody's is rumored to be considering Poland's downgrade. The decision will be communicated in the coming week.
The credit downgrade however isn't the only source of concern for investors, even if it plays a surely important role.
Marek Belka's 6 years term of office as Governor of the Central Bank of Poland is coming to an end in June and Law and Justice party threw Belka's candidacy to replace the current Director of the European Bank for Reconstruction and Development in London. In light of the previous pressures by PiS in 2013 on Belka to step down after some not really orthodox tapes were released, it is easy to understand that, nonetheless he has all the qualifications to take on that position, the party's move is strategic. Only in this year Law and Justice party and President Duda have unilaterally appointed eight of the current ten rate-setting Monetary Policy council's members.
This Friday President Duda nominated Adam Glapinski as Belka's successor. Glapinski, a former MPC member appointed this year to the central bank's management and, most of all friend of Jaroslaw Kaczyncki (Law and Justice leader), was widely expected as the next governor in light of the President's power to appoint and of the necessary Parliament's vote on the nominee, which, we are sure, won't hesitate to occur in this case.
Consequently, on the basis of an expected credit downgrade and economic uncertainty surrounding future developments regarding governance and policy of the Central Bank, and Poland as a whole, we expect the Polish Zloty to further depreciate and the spread with Bund to widen further.
[edmc id= 3959]Download as PDF[/edmc]