Industry overview
One of the core Indian industries is the automotive industry. In 2016, India was the World's 6th vehicle manufacturer with a total production of 24 million units and the 5th biggest passenger vehicle market. In the same year, this sector accounted for 7.1% of the country GDP, 27% of industrial GDP, 54% of manufacturing GDP and employed 19 million people.
The industry is divided into 4 segments: passenger vehicles, commercial vehicles, three-wheelers and two-wheelers, which is the most prominent accounting for 80% of production volume in 2016.
The dominant characteristic of the industry is its growth: the passenger and two-wheeler production increased respectively by 3.8% and 5.3% from 2012 to 2017, contributing to an aggregate growth of 4.43%. The total turnover hit $59 trillion in 2015, with an annual growth rate of 6.4% from 2010 (Chart 1 and 2).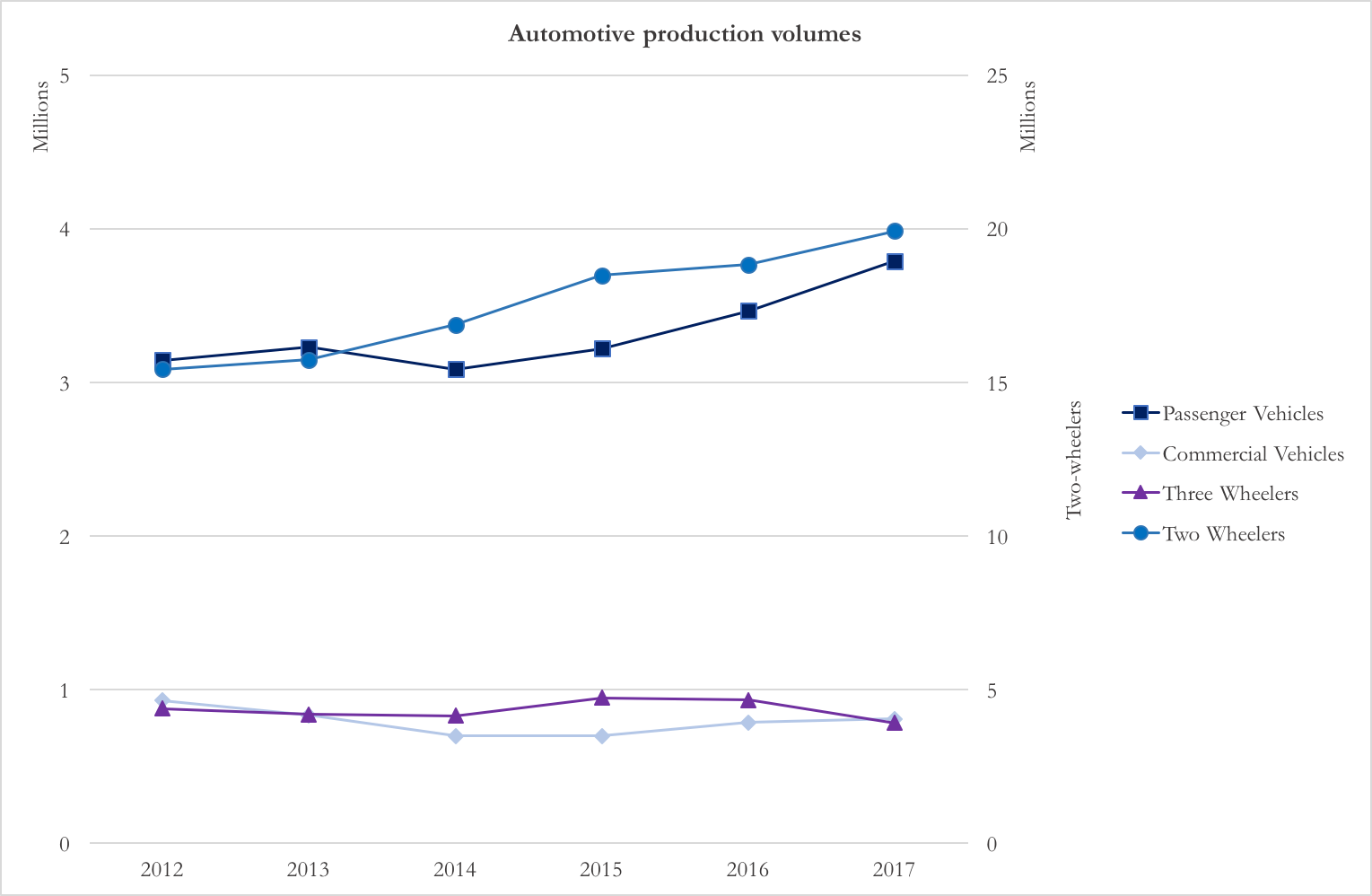 Chart 1: Automotive production volumes. Two-wheelers volume in second axis (Source: Society of Indian Automobile Manufacturers)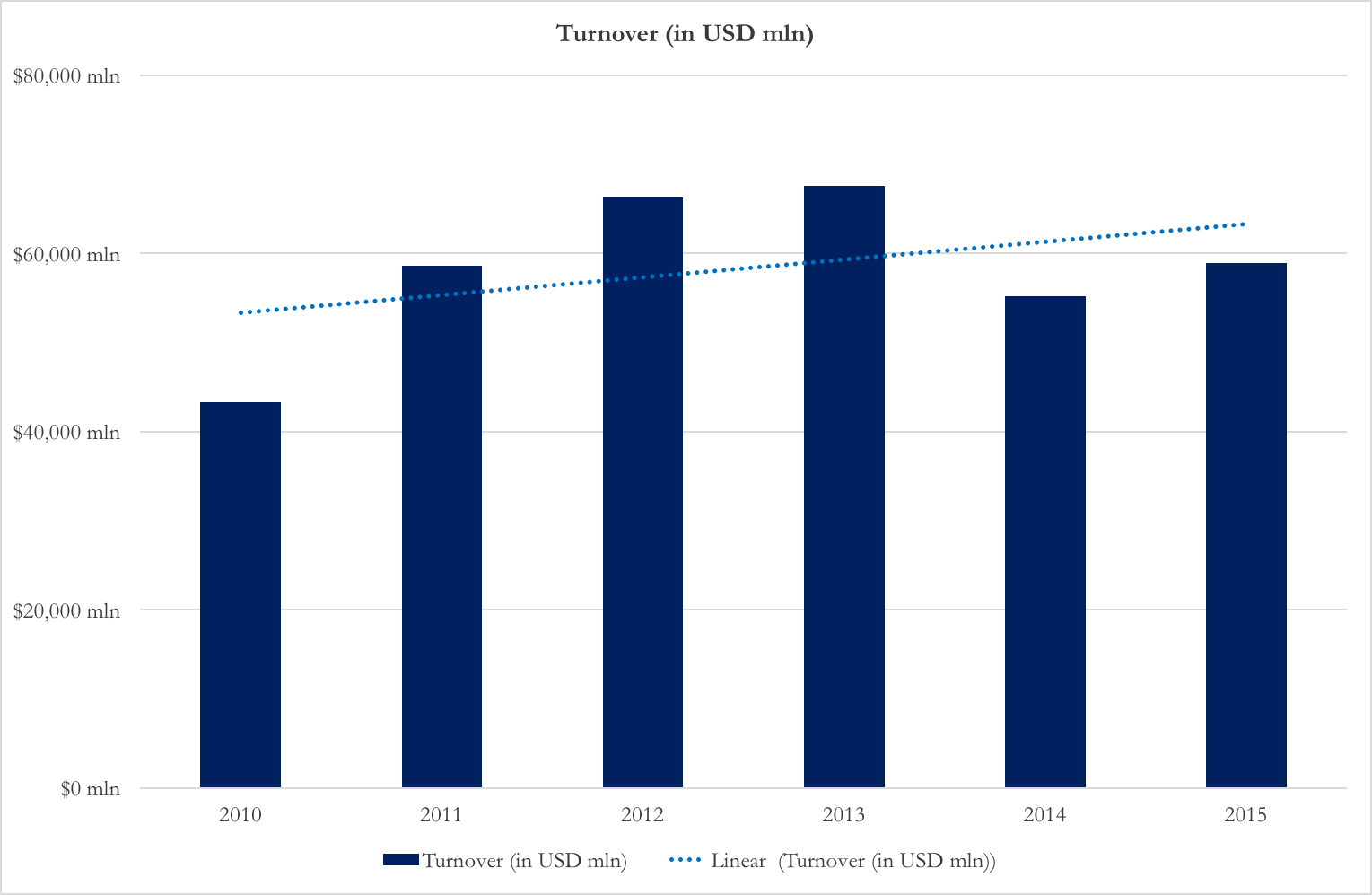 Chart 2: Total industry turnover in USD mln (Source: Society of Indian Automobile Manufacturers)
Domestic demand has been one of the main drivers of the sector's expansion, thanks to the peculiar demography of the country. India has the peculiar combination of the youngest population worldwide (66% of the population is under the age of 35) and one of the smallest proportion of vehicles per habitants (20 vehicles per 1000 habitants, compared to 500/1000 in Europe and 100/1000 in China). As the market is not yet saturated, past growth is sustainable in the future. According to a report by the consultancy firm EY, the vehicle sales are forecasted to grow at a higher rate in the following decade, at about 10% annually, and the consensus of the car-making companies agrees with this projection.
Furthermore, the Government and the Society of Indian Automobile Manufacturers developed the Automotive Mission Plan 2016-2026, a road map for the industry development in the following decade. This cooperation aims for the sector to reach $300 billions in revenues, to create 65 million further jobs and to generate 12% of India's GDP by 2016. The achievement of this goal will require further investment of INR 4.5-5.5 trillion by companies and the continued institutional support to fiscal incentives on R&D expenditures and initiatives such as "Make in India" (launched in 2014 to encourage multinationals to move their production in India) and "Skill India" (launched in 2015 to train 400 million workers in different skills).
Despite the high competition, due to the presence of several Indian and multinational companies, the main player of each segment holds more than 40% of the market share. The major players are presented in Chart 3 together with their market share (as in 2015).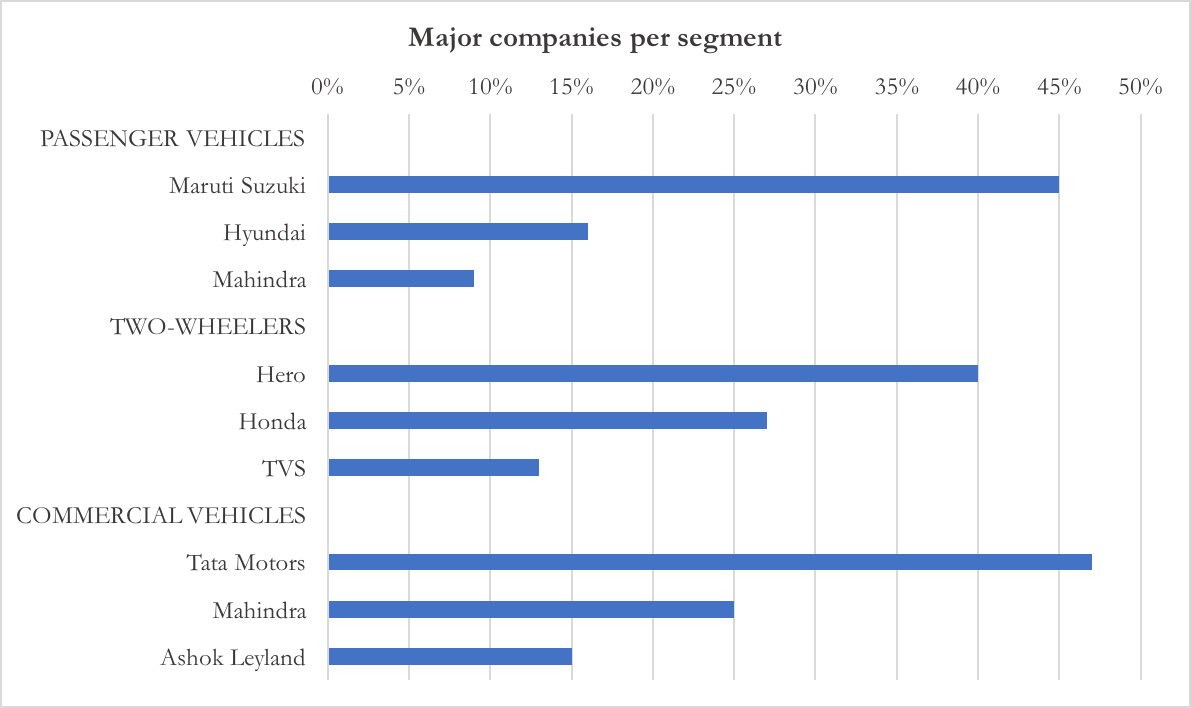 Chart 3: Major players by segment (Source: "Making India a world class automotive manufacturing hub", EY)
India's ecological commitment
Petroleum makes up 80% of India's import bill every year. Many of the country's cities like Gwalior, Allahabad, Patna, Raipur, Delhi, Ludhiana Kanpur, Lucknow fall under the world's 20 most polluted as per the 2016 version of the WHO database. Vehicular pollution is one of the major causes for this (30-35% of the total pollution).
India is signatory to the Paris Climate Agreement as per which, India is obligated to bring down its share of global emissions by 2030. India's climate change offer consists mainly of three parts:
to reduce India's emissions intensity per unit of GDP 33% to 35% of 2005 levels by 2030;
to achieve "about" 40% installed electric power capacity from non-fossil fuels by 2030;
to create an additional "carbon sink" of 2.5 to 3 billion tons of CO2 equivalent through afforestation by 2030.
These factors make the Asia's third-largest economy desperate for alternatives to fossil fuels. India has imposed a INR. 200 (approximately $3.08) per ton tax on coal that is going directly to renewables and has cut subsidies and raised taxes on oil and gasoline. Most importantly, India has begun to focus on what it will cost to make the transition to clean energy and on the role of the private sector and outside financing necessary to make the shift. In its Intended Nationally Determined Contribution (INDC), India has placed a price tag of USD 2.5 trillion on its needs for clean energy capital between 2015 and 2030.
Government Actions
Energy Efficiency Services Limited (EESL), a joint venture company of the Ministry of Power, has floated a tender to procure 10,000 electric sedan cars along with 4,000 electric vehicle chargers for replacing government vehicles. The Ministry of New and Renewable Energy will be the nodal agency for the procurement of electric vehicles under the government's Faster Adoption and Manufacturing of Electric vehicles in India (FAME) scheme, launched in 2015, offering incentives on electric and hybrid vehicles of up to INR 29,000 (approx. USD 446.15) for bikes and INR 138,000 (approx. USD 2,123.08) for cars. "Each car is estimated to cost around INR 1.2 Million (approx. USD 18,462), while a charger would cost around INR 200,000 (approx. USD 3,076) each," Saurabh Kumar, Managing Director, EESL reported to the Indian media. This translates into an expenditure of around INR 12 Billion (approx. USD 184. 62 million) for the vehicles and INR 0.80 Billion (approx. USD 12.31 million) for the chargers.
Keeping up with his commitment as a Mister for Road Transport and Highways, Mr. Nitin Gadkari launched the pilot project of electric vehicle transportation in Nagpur on May 26, as per the schedule, making Nagpur become the country's first city with such a facility as an electric fleet of 200 electric vehicles, including taxis, buses, e-rickshaw and autos. These 200 vehicles consist of 100 of Mahindra's e2o Plus vehicles. Taxi aggregator Ola (backed by SoftBank) has already invested upwards of INR 500 Million (approx. USD 7.69 million) towards EVs and charging infrastructure, starting with 50 plus charging points across four strategic locations in Nagpur.
Mr. Nitin Gadkari, Minister for Road Transport and Highways, confirmed that India will stick to its plan of having 100% electric mobility by 2030.
"Promoting electric vehicles is our priority. We want electric buses, auto-rickshaws and other vehicles to ply in the country. We are engaged in initial talks with SoftBank for loans at low interest rate for a green project. We want to introduce two lakh electric buses for public transport," Union road transport and highways minister Nitin Gadkari said.
Speaking at the event of launch on May 27, Devendra Fadnavis, Chief Minister of Maharashtra, said, "To promote electric fleet, we have waived VAT, road tax, and registration for all electric vehicles in the state, and we look forward to building Maharashtra as a model state for others to emulate in future."
In the recent major policy implementation, wherein the government introduced the Goods and Service Tax Bill to get rid of the former complex taxation that the country followed and to bring the whole country under a single tax system, the government has put a levy of 12% on pure electric vehicles (EVs), compared to the 28% on petrol and diesel and hybrid vehicles, a move that reflects the government's intention to push its adoption.
The government is aggressively trying to push sales and production of electric vehicles in the country through schemes such as FAME India, which have caught the fancy of Chinese automobile manufacturers such as BYD and SAIC that are already investing heavily in electric technology. With an aim to promote eco-friendly vehicles, the government had launched the FAME India scheme in 2015.
Major constraints for switching to Electric Vehicles
The main restrictions to the spread of electric vehicles in India are the lack of infrastructure and the cost of batteries. At the moment, India has only 500 charging points, while it is believed that a city like Delhi alone would require about 350,000 charging points to meet demand. (Delhi at the moment has about 9 million vehicles in total compared to the 140 million all over India). Lack of charging points in the country means that potential buyers are put off by the uncertainty about whether they will even be able to recharge their car on a long journey, often referred to as "range anxiety"
Batteries: The biggest expense that goes into producing electric cars in India are the batteries. These are largely being imported from countries such as China at the moment, because there is not a critical mass of electric vehicle production, industry insiders say. The government is contemplating incentivising manufacturers to set up facilities for making lithium-ion batteries in India to lower the cost of electric vehicles, a move likely to discourage Chinese car makers seeking to enter the market. Elaborating on the plans to develop low-cost lithium-ion batteries in India, the Union Minister for Heavy Industry Mr. Anant Geete said efforts are being made to remodel the battery made by Indian Space Research Organisation so that it can be used in electric vehicles. "We are trying to establish a manufacturing facility with Bharat Heavy Electricals Limited entailing an investment of INR 100 crore. Maruti also wants to invest INR 2 lakh crore for manufacturing lithium batteries.
What car manufacturers and related businesses have to say
Indian automobile makers have laid out plans to produce fully electric vehicles but they don't seem to be in a hurry, even if they realize that its adoption is inevitable amid a government push to switch to zero-emission technology by the beginning of the next decade. While some are waiting for the government's intent to be backed by a policy document (which is likely to be announced in December this year), others are unlikely to introduce electric vehicle models till the circumstances mature. Here are the positions of some major players about the electric vehicles.
Mahindra & Mahindra: Utility vehicle maker Mahindra and Mahindra Ltd. is still the only auto firm in India going ahead with the launch of electric vehicles – Mahindra e2oPlus and Mahindra e-Verito, to capitalize on its first-mover advantage. Most launches in the initial phase will be focused on the public transport segment, Pawan Goenka, managing director at the firm, said during the launch of firm's first passenger e-rickshaw on 8th September in the country's capital – New Delhi. This can also be confirmed from the fact that BigBasket, an online grocery in in India, has bought electric vans from Mahindra.
Mahindra is investing to scale up its electric vehicle production, despite mass demand not being there now, to be ready for a shift towards electric vehicles. It plans to double its production of electric vehicles to 1,000 units later this year. Mahindra's electric vehicles include the e2oPlus, a hatchback aimed at urban commuters in India and the eVerito, a sedan, priced at about INR 750,000 (approx. USD 11,538.46) and INR 900,000 (approx. 13,846.15) r espectively for ex-showroom models. The e-Verito can run for 110 kilometres on one charge.
Lohia Auto Industries: Ayush Lohia, the director of Lohia Auto Industries, which manufactures two and three-wheel electric vehicles in India, says that "the future of electric vehicles looks quite promising" but that "long-term government policy on electric vehicles" is very much required and the lowest possible taxation is needed to boost the industry.
Other Indian companies are also starting to move into the market – Tata Motors is developing its electric car strategy and planning to launch soon. Foreign brands are showing cautious interest in the market. There have been rumours that Elon Musk's Tesla is interested in entering India, although such plans are yet to be confirmed. "Many more electric vehicle manufacturers are set to enter into the fray, translating huge gains for the end users," says Sohinder Gill, the director of corporate affairs at the Society of Manufacturers of Electric Vehicles (SMEV). The electric vehicle industry in India, excluding e-rickshaws, managed to sell 25,000 units during the financial year to the end of March 2017, according to SMEV. Out of these, motorbikes and scooters accounted for 23,000 vehicles, while the remaining 2,000 units were electric cars.
BMW: German luxury car maker BMW, disappointed over plug-in hybrids being ignored for incentives in the upcoming GST, said that it will be difficult to popularise green vehicles in India in the absence of government support. Although the company welcomed the government's idea of going for all-electric vehicles by 2030, BMW said lack of infrastructure and consumer's concerns over getting stranded with pure electric vehicles when the charge runs out will be major challenges to overcome. BMW already sells both pure electric and plug-in hybrid vehicles across the world.
Taxi Aggregators: For taxis, the government is considering fast-charging electric stations. Specifications and guidelines for each type of electric vehicle, lease plans, battery swaps and charging stations are being worked out. The government sees a clear cost advantage in shifting to electric. If battery and vehicle are paid for, a sedan powered by an internal combustion engine costs INR 7 per km to run, as opposed to INR 1 per km for an equivalent electrical vehicle.
Major Investments & Other Developments
Suzuki Motor chairman Osamu Suzuki promised to invest INR 3,800 crore more to expand capacity at its car manufacturing unit at Hansalpur near Ahmedabad, which is also the location for the factory that will make rechargeable batteries for electric and hybrid vehicles. This will take the Japanese automaker's investments in Prime Minister Narendra Modi's home state to INR 13,400 crore ($2.1billion). In the battery venture, Suzuki will hold half the stake, while Toshiba will own 40% and Denso the remaining 10%. Osamu Suzuki, who made the announcement coinciding with Japanese Prime Minister Shinzo Abe's India visit, said the proposed joint venture would leverage India as a base for manufacturing batteries, which would be mounted on hybrid vehicles and sold in the local and export markets. In India, where Maruti Suzuki makes one in every two cars sold, the decision gains significance for both the company and the country in light of the government's ambitious target to sell only electric vehicles starting 2030.
ABB has supplied electric vehicle charging solutions to car and bus original equipment manufacturers in India. ABB India also has an R&D cooperation pact with the Centre for Battery Engineering at IIT-Madras.
Who will be affected by the transition and how
The companies that will deal with battery manufacturing and related components, and other key components in EVs, would get their next leg of growth from the transition towards EVs. Additionally, there are companies which make lighter auto parts. They would also reap benefits as EVs are supposed to be light-weight so they could get the desired power output.
Battery manufacturers: this shift is a clear win for the battery manufacturers like Exide Technologies and Amara Raja Batteries that control 90% of the Lead-Acid storage battery market in India.
Companies having manufacturing facilities in the Auto Ancillaries and Wiring may get neutral to highly positive advantage
Engine Manufacturers: Companies having plants setup for manufacturing the Internal Combustible (IC) engines will face the highest of the negative impact with this transformation
Following are the companies in the segments that would be affected the most by this transition.
Category
Sub-Category
Company Name
Impact
Engine & Engine Parts
Piston
Federal-Mogul Goetze (India) Limited
Highly Negative
Shriram Pistons & Rings
Highly Negative
Smkrg Pistons & Rings Ltd.
Highly Negative
Engine Valve
Rane Engine Valves
Highly Negative
Shriram Pistons & Rings
Highly Negative
Carburetors
Ucal Fuel Systems
Highly Negative
Transmissions & Steering Parts
Clutch
Clutch Auto
Highly Negative
Sona Koyo Steering Systems
Highly Negative
Gears
Bharat Gears
Medium Negative
Gajra Bevel Gears
Medium Negative
ZF Steering Gear (India) Ltd.
Medium Negative
Radiators
Banco Products
Highly Negative
Steering Systems
Sona Koyo Steering Systems
Neutral
Electrical
Nippon Electricals
Neutral
Suspension & Braking Parts
Brake Lining
Automotive Axles
Neutral
Rane Braking Lining
Neutral
Sundaram Brake Lining
Neutral
Hindustan Composites
Neutral
Leaf Springs
Jamna Auto
Neutral
Shock Absorbers
Gabriel India
Neutral
Munjal Showa
Neutral
Equipment
Headlights
Lumax
Neutral
Autolite
Neutral
Phoenix Lamps
Neutral
Sheet Metal Parts
Jay Bharat Maruti
Neutral
Omax Auto
Neutral
JBM Tools
Neutral
Seats
Harita Seating Systems
Neutral
Bharat Seats
Neutral
Batteries
Exide Industries
Highly Positive
Amara Raja
Highly Positive
Standard Batteries Ltd.
Highly Positive
Wiring Harness
Motherson Sumi
Highly Positive
Download the PDF of this article