It has been a tough couple of weeks for the Euro area and what seemed like a major Euro breakdown turned -temporarily- into a much more stable situation this week. But let us go back in time a little, when Grexit was more likely. Up to just a couple of weeks ago, the debt burden Greece was holding had become  quite troublesome: Greek government debt stands at  €323b, over 175% of the country's GDP. As one can observe in the picture, €246b of this was lent by international bailout funds, to prevent Greece from collapsing. A big amount of the €246b comes from the Eurozone's bailout fund, which means a 27% comes from Germany, and this explains its huge influence and control on the issue.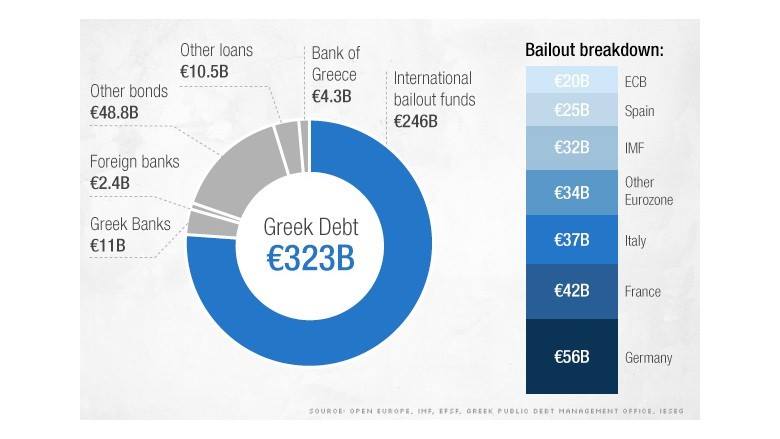 Much of this is long term loans at low interest rates, and Tsipras won the elections on the premise of better deals for its debt and for the people of Greece. A good deal of the debt though is due in the coming months, as you can see in the chart below, and €1.4b was due at the end of February to the IMF.
After repeatedly stating he would not budge on his ideals, Tsipras agreed earlier this week on the possibility of an extension for its €172bn rescue programme, ending weeks of strong uncertainty and volatility. Our view of what was happening in Greece in the past weeks was rather cautious, but still we had well in mind that the possibility of a Greek exit from the EU was quite unlikely. The reasons for our doubtfulness are well explained by Mr Willem Buiter in one of his papers at the time he worked in Citi, which Zerohedge kindly reports here(http://www.zerohedge.com/news/2015-02-08/if-greece-exits-here-what-happens-redux) and which are still valid today. The costs of a Grexit would have and still would be exceedingly high, especially for Greek taxpayers. With this in mind, Tsipras  could not allow such a unwise outcome of events, and this week's eleventh hour deal was rather anticipated. Who won in these remarkable weeks? Surely, who withstood the storm, in particular bond holders.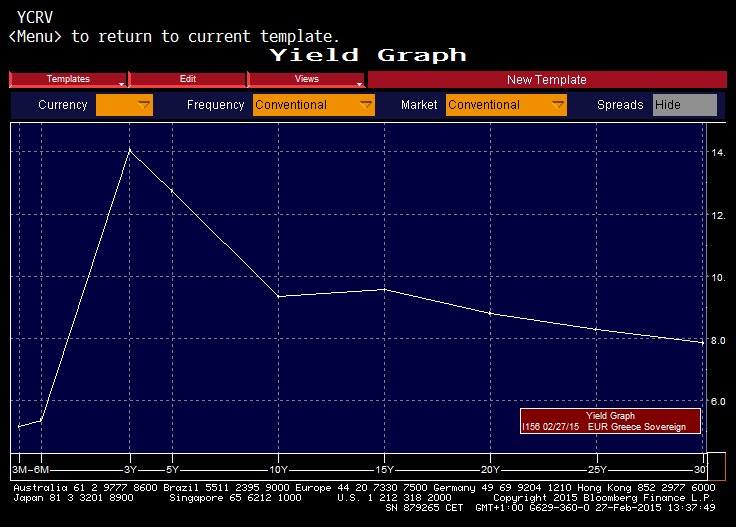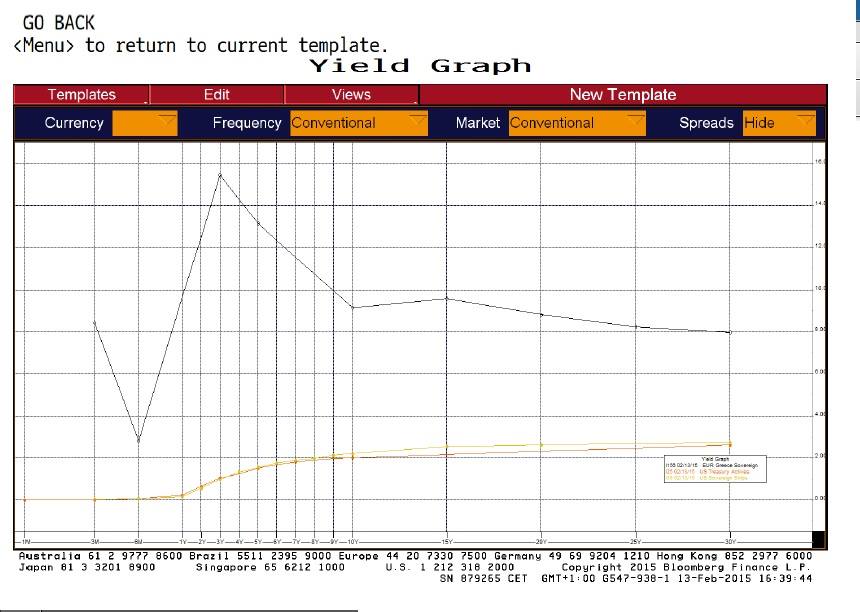 Two weeks ago, a 3-year Greek bond was trading around €73.50 (18% YTM), while it is now trading at €80.00 with a 13.8% yield. A 10 yr was trading at €60.00 (9.80% ), but the current price (On Friday evening) is €63.40 and a 9.22% yield. The two respective yield curves can be observed in the charts, showing a flattening of the curve and a reduction in the spread.
The idea which we bring forward is to long 2 and 5 yr bonds, which we believe to be still undervalued with respect to current macro fundamentals, and to hold the position for at least 2 months. Early in March the ECB will start its money-printing programme, and while yields in continental Europe are already at historical lows, double-digit yields may well respond to yield searching in the coming months. European equity markets are at 7-year highs and much of the expected in-flows may go to the bond market. In addition, now that the situation seems to have stabilized, Greek bonds look attractive in the short-term on two fronts:
On one hand, thanks to the 4 months extension agreement between Tsipras and the EU, Greece will enjoy a period of relative tranquility: the new government will have more time to pay back its debt and to reconsider the reform schedule. Risk on environment seems to have therefore cooled down at least for this time window.
On the other hand, the agreement laid groundwork for future collaboration with the EU and can be read as renewed commitment from Europe to maintain Greece into the EU area.
We therefore expect the front-end of the Greek yield curve to edge lower in the short term as a consequence of quieter political situation and QE-environment in Europe.
Most importantly, the best case scenario for our trade would be the possibility for Greek bonds to be eligible for the ECB's QE, but only in the case of a continuing review of the country's bailout programme, an issue which will probably be addressed in the coming weeks. In such a scenario Greek bonds would enjoy a huge rally, similar to the one performed by Portuguese debt, now yielding less than 2% for the ten-year maturity.
Review of cutbacks and reforms will have to be completed in order to utilize these solutions, but the macro environment seems keen to take some burden off Greece's back.
[edmc id=2444]Download as PDF[/edmc]